Brouczech Pils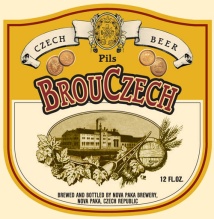 There is a good reason why Czech Republic is #1 in beer consumption per capita, and it is this type of pilsner or pale lager that makes it happen. Outsells its stronger cousin, BrouCzech Lager, about 2 to 1 and together they make over 90% of all domestic consumption.
Like all BrouCzech beers Pils is produced with all natural ingredients in strict compliance with German Reinheitsgebot of 1516. BrouCzech Pils is a bottom fermented pilsner that is the most widely enjoyed beer type in the Czech Republic. This brew has a pale golden color, pleasant Saaz hop nose, the unmistakable character of an all Barley malt brew with a refreshingly clean crisp finish.
Recommended serving temperature 54-56 °F (12-14 °C).