Brouczech Bock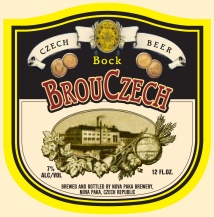 Canadian luberjack's favorite
- because it is just as powerfull
Or full-flavored, or however we could put it to let you know that there is nothing "light" in BrouCzech Bock. Deep golden color, notable bitterness and tons of malt. Full, creamy, rich, and rounded with a huge warm malt character, succulent texture and long lingering finish.
Unquestionably the crown jewel of our family, as Bock does not leave the cellars under 100 days from birth.
Served best at 54 to 57°F.